Dr. Chestnut contributes to Making Marriage a Success.
Pearls of Wisdom from Experts Across the Nation
Dr. Chestnut is a contributor to Making Marriage a Success.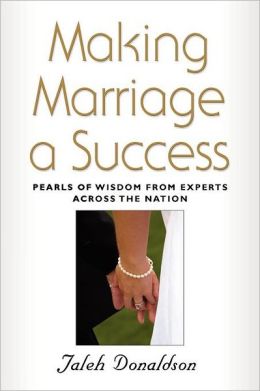 Every marriage, even the strongest, encounters challenges. Are you prepared to face the storms that loom over the horizon? Don't wait until they arrive – prepare well in advance by equipping yourself with expert knowledge.
Making Marriage a Success supplies the information you need to bolster your marriage or get it back on track. Its dual purpose makes it twice as effective; first, it's a timely collection of pearls of wisdom from not just one or two but dozens of the best psychotherapists and other relationship professionals across the nation. Equally important, it's a directory of relationship experts, complete with websites, organized in a convenient state-by-state format. When your marriage needs support, help is at your fingertips with Making Marriage a Success!
Here's a sampling of the practical, concise pearls of wisdom you'll find within these pages:
– Dr. Gary Chapman, North Carolina
"What one person considers to be an apology is not what another person considers to be an apology. Learning the apology language of your spouse communicates your sincerity."
– Anna Valenti, Licensed Clinical Social Worker, Arizona
"Learn to appreciate routine and familiarity instead of needing drama to feel alive."
– Raelene S. Weaver, Licensed Marriage Family Therapist, California
"Accept the whole package. He might crack his knuckles, she might bite her nails, but in the big picture, who cares?"
You can now purchase the book online on Amazon.com and Barnes & Noble.
About the author: JALEH DONALDSON holds a Bachelor of Arts degree in Psychology, a Master of Science in Marriage and Family Counseling, a supervisory permit in early child development, and a writing certificate from the Institute of Children's Literature. Jaleh has traveled around the world but has lived in California for most of her life. She currently works as a public school teacher and enjoys spending time with her husband and two young boys.
Source: Yahoo Voices